In many church communities, when a person dies, the grieving family is brought casserole after casserole to temporarily relieve their burden of cooking. Almost any churchgoer, whether Jewish, Christian, Catholic, or others denominations could confirm this. Another popular occasion to give comes after a baby is born. The household with the new baby receives meal after meal from families surrounding them.
But what about ministries that go beyond the occasional casserole?
One example of such ministries is Marie, a Wisconsin resident who collects wedding dresses that are donated to her for free. She stores them in her makeshift bridal shop basement, and then gives them away to engaged, Christian women, free of charge. She serves the Christian community first and foremost. The wedding dress story began when a woman at Marie's church commented on the need among Christian women for more modest wedding gown options.
So Marie began praying, and then making calls. She contacted a bridal shop owner, asking if she would be willing to donate some of her new or used wedding gowns to the wedding dress closet idea. The owner of the bridal shop directed Marie to some $10 clearance dresses she was trying to get rid of. Marie went to take a look at the selection and came back with twenty dresses, sold for just $10 a piece! That's where the dress collection began. Today, Marie has provided wedding gowns for almost 400 brides since the ministry started in 2010. Brides hear about her by word of mouth, whether it be through friends in church, family members, or past brides who have received a free dress. Three bulging racks of dresses currently reside in Marie's basement. It's like walking into an actual bridal shop, minus about 1,000 square feet.
To the surprise of many, a subculture of loving, supportive Christians exists, and even thrives, amidst a society straying from religion. The world today is not the world of ten years ago as the Pew Research Center discovered. The Center conducted a study on "America's Changing Religious Landscape" that showed a drop in Christianity from 2007 to 2014 by 7.8 percent. Within the same seven years, individuals unaffiliated with a religion have increased by 6.7 percent.
Despite America's changing religious landscape, this subculture of Christians that serve through ministry do so primarily to "encourage one another," says Kirk Leach, the pastor of Bethel Baptist Church in Green Bay, Wis. During his sermon on Sunday, October 23rd, he said,
"Let's be a people that are serving for the glory of God."
Individuals who serve the Christian community give their talents, time and money, believing God has blessed them in a particular way, be it with hospitality, wisdom, or teaching. They then take their skills and give them back to the Christian community. These actions correlate directly with the Bible verse Galatians 5:13, which says "serve one another humbly in love." Bible-believing followers of God understand that this call to serve starts directly within the Christian community itself.
For the Christians on the receiving end of these services, it is often considered a "reward" for their persevering faith in God. As a member of the Christian community herself, Elle Baldwin recalls all the help she received when planning her wedding.
"As soon as I got engaged, Marlene said she would make a cake for us."
Much like Marie, Marlene Leach, wife of Bethel Baptist Church's Pastor Kirk Leach, encourages the Christian community through a wedding-related ministry as well. Years ago, Leach's twin sister began taking cake decorating lessons. As Leach admired her sister's decorating skills, she thought to herself "I could do that." So, she became a self-taught wedding cake decorator. Within her own kitchen in Mile City, Mont., Leach started her own cake decorating business. She both baked and hand decorated cakes for individuals upon request, as well as for larger companies like banks and hospitals.
What used to be a money-making business for Leach is now a free "opportunity to serve God's people." Leach's ministry is geared specifically toward her church family at Bethel Baptist Church. With each new engagement, Leach contacts the couple to offer up her cake decorating talents in the form a free wedding cake.
"I'll do whatever they ask," says Leach.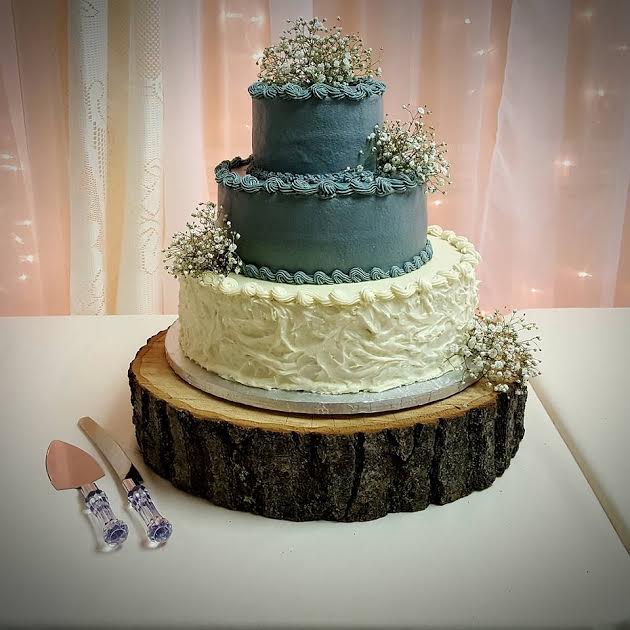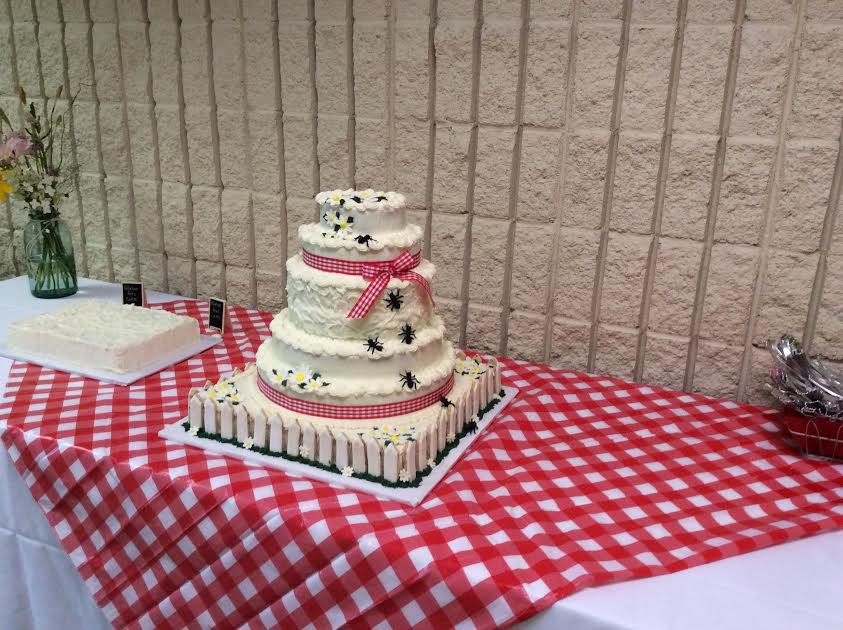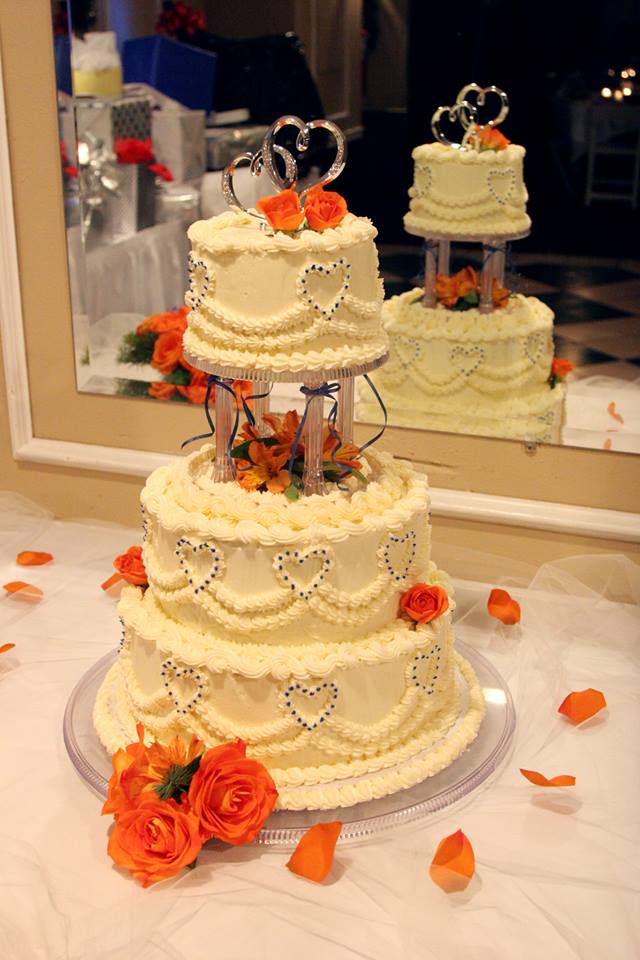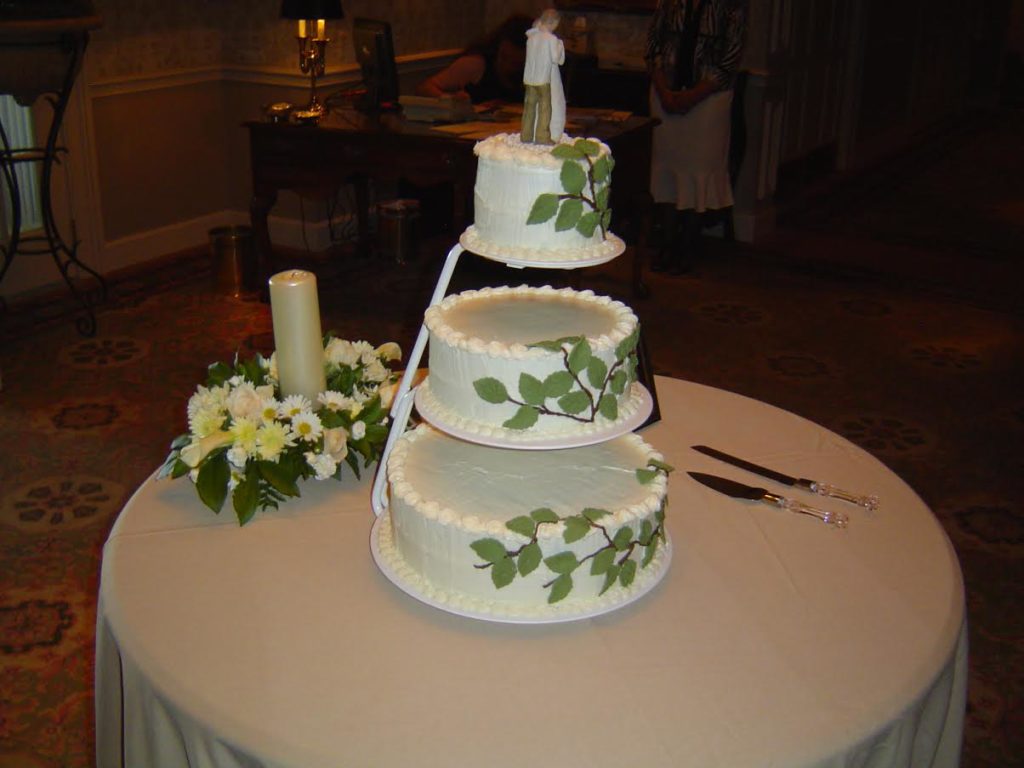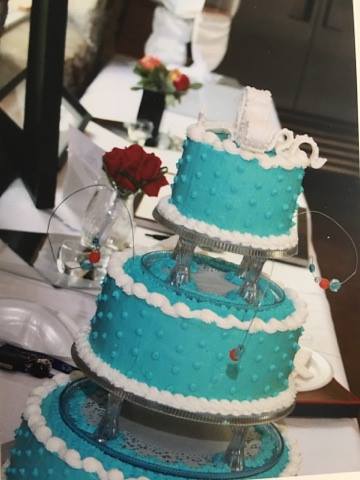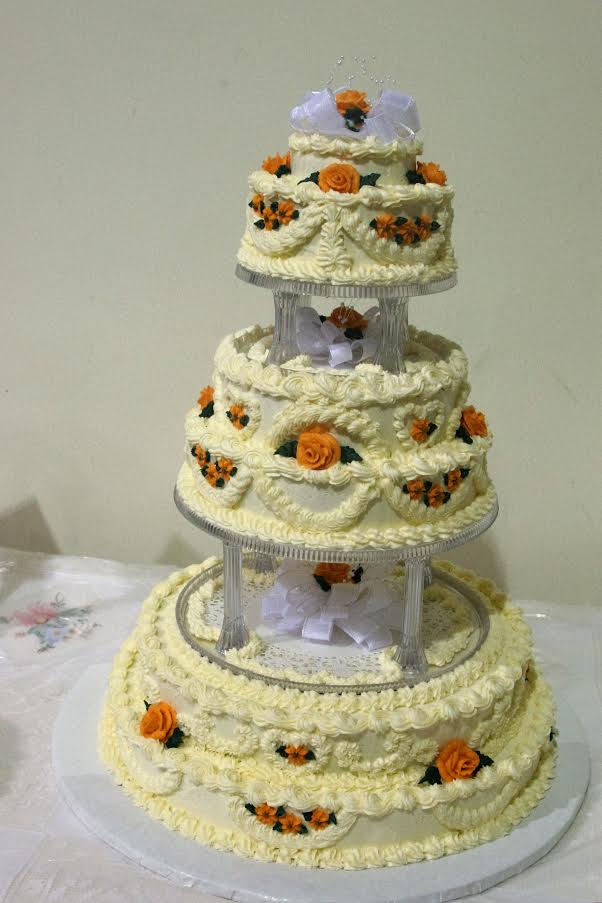 Elle Baldwin, a recipient of a wedding cake made by Leach, says most of the brides who receive wedding cakes from Leach know her fairly well. The relationship the brides already have with Leach is a huge comfort amid stressful wedding planning.
"It's good for the brides who know Marlene because they know it's made with love," says Elle. "And she's very humble about it."
Another aspect of Leach's ministry that Baldwin appreciated was the financial burden lifted with a free wedding cake. Weddings are expensive events. In Green Bay, the average bride spends no less than $20,000 on her big day. One of Baldwin's biggest helps in getting her own wedding bill down to $9,000 was a free wedding cake donation from Leach.
Similarly, the thought of spending hundreds of dollars on a bridal gown left bride, Lindsey Miller, feeling anything but excited. Green Bay resident Miller got engaged in October 2015. She and her now husband, Tom, planned to tie the knot one year later in October 2016. After the engagement, Miller began to think about all the expenses that would come along with organizing a wedding.
"The dress is usually the first thing brides think about having to get," says Miller.
When Miller heard of Marie, she gave her a call. After affirming that she was both a born-again Christian and actively living her life for the Lord, Miller was invited to Marie's makeshift bridal shop.
"I was shocked," says Miller. She recalls being "blown away" as she viewed the variety of gown options Marie was willing to offer her.
Another bride who found a free wedding dress through Marie is Alana Arco. As a laid-back-bride, Arco desired an easygoing experience when it came to looking for the dress she would walk down the aisle in. She describes her experience in the basement bridal shop as, "relaxed, organized, enjoyable – definitely more my style." Just like Miller, Arco recalls her first thoughts as she met with Marie.
"It blew my mind to see something special like that happening."
Caption: "Alana Arco on her wedding day, wearing the dress Marie donated to her."
Miller values Marie's ministry because of the support it gives to the Christian community. In a world where Christian values are given little attention, Miller is encouraged through the wedding dress ministry,
"There are people cheering you on. There are still people supporting you," she says.
Ministries beyond just help for wedding finances do exist as well. Aside from cake decorating, Leach makes hand-made cards and fills them with encouraging words. Then, when an individual she knows need encouragement, she send the cards wherever needed.
When compared with the giving away of wedding dresses and wedding cakes, hand-made cards by Leach seem small and insignificant. But to Christians facing all sorts of trials, these cards can provide strength. Leach explains how she often reads through the prayer list at church in order to find individuals in need of a card filled with encouragement. She even teaches the young women in her church with how-to classes in card making.
Another ministry that seeks to serve Christian individuals outside of just wedding planning is Elaine Pratt's biblical counseling service. As a wife, mother and part-time employee at Eden Baptist Church in Burnsville, Minn., Elaine Pratt is a busy woman.
During her early years of marriage, Pratt's husband Jon took a job at Maranatha Bible College. There, Pratt got a job as well, teaching Freshman English. Throughout her life, she's always found much joy in relationships. After her family relocated to Burnsville, Minn., Pratt decided to pursue her love for relationships by learning how to Biblically counsel others. She began taking classes at Central Theological Seminary to later graduate with Master of Arts Biblical Counseling degree in 2014.
Pratt says that while there is no formula to counseling, those who practice the profession possess the ability to listen and hear. Biblical counseling primarily uses the Bible to solve issues in life. The Word of God is seen as a tool that applies to every area of living. While Pratt agrees with this idea, she also knows the importance of showing love to the women she meets with before anything else.
"People long to be heard, to be loved," she says.
Like Marie, women hear of Pratt primarily by word of mouth. They call her up or send her an email; sometimes Pastors even email her requesting that counsel a certain individual. Counseling is a free service Pratt provides to about three women at a time. The idea is that Biblical Counseling from Pratt would be a flow out of her home church.
Not only would a paid job in counseling defeat the point of Pratt's ministry, but she would also have to consider the legal ramifications. With a free-of-charge approach, Pratt is able to freely, yet biblically advise, listen and pray for the women she counsels. Pratt is not alone in her biblical counseling practices. Juli Fulks, a fellow attender of Eden Baptist Church, holds a counseling degree as well.
Fulks, her husband and two young boys spent some time overseas as missionaries in Spain. Eventually, Fulk's family moved back to the states. The transition home was a big adjustment, so upon returning to America, Fulks was able to go to Pratt to process through many different thoughts and emotions.
Fulks describes the way Pratt lives as "purposeful living." She explains how every person wants to feel accepted, loved and known. Pratt helps women feel this very way by coming alongside them with open ears. The unique side of Pratt's counseling ministry is her ability to provide an outlet for women who give their lives to ministry.
Pratt and Fulks recently hosted a women's event at their church, Eden Baptist Church. The morning started with breakfast and light conversations amongst small groups of women. Then, Pratt and Fulks led a discussion in an attempt to "talk transparently on the topic of trusting God." The talk focused primarily on experiencing God's love, goodness and wisdom in everyday life.
The event served as an outreach for many of the Christian women at Eden Baptist Church who may not have the opportunity to be counseled on a regular basis.
These are just a few ministry examples of the encouragement the Christian community strives to provide amidst a secularizing world.
After the wedding was complete and the honeymoon had passed, Elle Baldwin wrote a thank you note to Marlene Leach for her generous wedding cake donation. Baldwin enclosed a gift card in the thank you note to emphasize her appreciation. At church the following Sunday, Leach found Baldwin and thanked her for the note. She appreciated the gift cards as well, but then said,
"You just took away my crowns in heaven!"
Baldwin chuckles as she recalls Leach's comment.
"She just wants to use her talents to glorify God," says Baldwin.